This morning Jack left for a few days at "Astro Camp".

From now until Friday he will do all manner of fun things including a space walk simulation done in the pool, some zip line action and evening star walks where you, wait for it, turn. Off. Your. Flashlight.
So last night, we had a little
Bon Voyage
dinner... taco salad prepared by the traveler and eaten in the courtyard.
Do you see the small blackness of Jones... hiding behind Eva and hoping she will share some of her dinner with him...

This little creature joined us... um, anyone know what kind of spider this is and should I be concerned?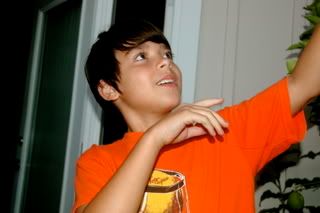 Here is Jack pointing at an imaginary bird... he's been looking through too many J. Crew catalogs.

These two noticed the limes were looking plentiful... so they picked them...
Which Jake found very funny because...

There were a damn lot of limes...
Corona
anyone?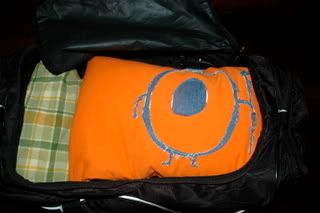 We packed... here is the bag... all ready to go...

This morning, Jacked checked in with some friends on the way to school... making sure everyone had their deck of cards, gum and spending money.

The buses were there when we arrived...