I do love that some of you worry and send emails, all of which have the common theme, of,
"Oh dear God, are you in the loony bin?"
running through them... although you have good reason to assume the men in white coats have come to take me away, they haven't caught up to me yet.
So where have I been?
Well, for starters, trying to keep Eva off the pole...
Protecting my kids from Giant Boots... because a boot that big? It. Will. Stomp. You. Flat.
Can you sense the fear?
Mitigating sibling rivalry...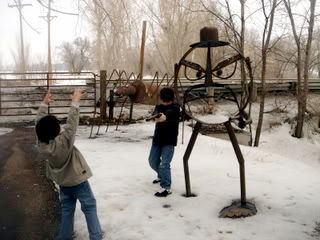 Visiting the largest statue of the Virgin Mary in the United States...
Can you imagine that, somewhere, there is a bigger one? Or that I drove my family all the way to Pine Bluff, Wyoming to see it On a 13 degree afternoon? Hugh bless him, says, "Of, course you did, you are a very random woman." Is that good? I'm saying it is.
Freezing the boys for fun and photo ops...
it is 11 degrees outside... there is a reason we were the only
fools
people at the park.
Bowling for Yuan!
You are looking at the most popular person at Chipper's Lanes.
Promoting Harmony(?)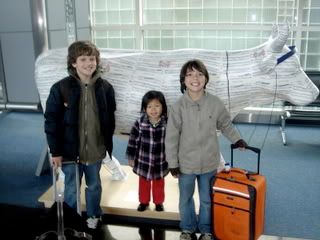 because nothing binds children together more than being forced to smile for a photo in front a big cow at the airport while their mother prattles on with things like
,
"Boys, like the big cows we saw all over London! Remember? Smile! So CUTE!" It's the collective hate towards parents that really cements sibling bonds.
The photos are all from our brief but oh, so very full, trip to Colorado over ski week... a week in which we didn't actually ski because, hello, did you read the captions?
11 degrees.
11 degrees leads to your children saying things like
, "I think I am a warm weather person."
and,
"Next year, let's go to Mexico."
and,
"I fucking hate this bloody weather!"
Ok, that last statement was made by me.
Did you know that while in Colorado you can drive to Wyoming? And, if you are feeling particularly adventurous, you can continue right on up to Nebraska, just to say you've been there!
For a person who lives in California, a state in which driving for 10 hours will merely take you to other places in the state, this is exciting stuff.
As we drove over the state borders I would yell to the kids in the back seat, "I'minWyomingandyou'reinColorado!" &, of course, "I'minColoradoandyou'reinWyoming!"
Don't you want to travel with me?