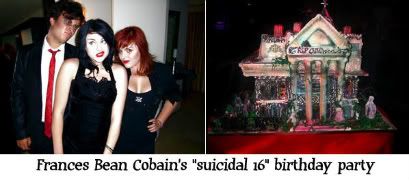 Frances Bean Cobain, only child of grunge rock messiah and Nirvana front man, the late Kurt Cobain, turned Sweet 16...
Awww, you're thinking pink party and a white BMW convertible right?
Hellz no!
Frances Bean is ringing in her driver's license and, if her parents (Mom is Courtney Love) are any indication a lifetime of substance abuse, with a SUICIDE themed party.
Which isn't in poor taste at all... you know, being that
Kurt Cobain killed himself back in 1994.

Ipod Touch for the 3 people who look the "most dead"!
Sweet 16 is right!