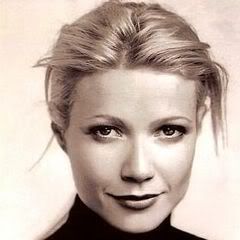 Dear Gwyneth,
We here at Mamarazzi think you have pretty hair. We also think you have beautiful children and a talented husband.
We've even liked some of your movies...
The Talented Mr. Ripley
comes to mind... all those skirts and head scarves... lovely!
However, we're not so keen on
this new website of yours
. Mostly because we find it a bit, shall we say, obnoxious, of you to think that you would be our go-to gal for "nourishing our inner aspect".
For starters, we aren't quite sure we have an inner aspect. Is it near the G-spot?
Also, "the recipe you made up this week"? Is it homemade pizza which needs to be baked in an
outdoor wood burning oven
?
Finally, "I love being in spaces that are clean and feel nice".
Do you consider that a
radical
statement?
Oh, Gwynnie, we've just realized where your Inner Aspect is located... and it's nothing a high colonic can't cure.
xoxo,
Mamarazzi