MOM,

the dogs are barking at a tortoise in the front yard!
Seriously, have you ever had such a statement hollered at you?
A tortoise?
So, out I go and sure enough, the labs are sniffing away at a tortoise.
Again, in case you haven't caught on,
there was a tortoise in my yard.
I do not live in the desert.
Jake shoos the dogs off and Jack and his best friend, Maia, come out and Maia fortunately is the proud owner of Benny and Renny, two Russian Desert Tortoises (tortoi?) and she knows what to do... the most important of which seems to be the washing of the hands after touching the creepy thing.
We put it in a boot box with dirt and lettuce and stick the whole caboodle in the bathtub, take a digital photo and off to the pet store.
Imagine the look on the clerk's face when I preface my questions with, "I found a tortoise in my yard this morning..."
He actually told me that he has never heard such a thing.
I told him he needs to get out more.
In any case, he takes one look at my photo and dismisses any notions we may have had of this stray being a Russian Desert because it is in fact a Sulcata.
Which is a species of tortoise that grows to be about 125 pounds and lives 100+ years. And it needs special outdoor enclosures and roaming spaces and for the love of God
do NOT
feed it worthless iceberg lettuce...
is that iceberg in the corner of the photo?
This information is all I need to announce to the children, "We are not keeping this thing."
I call Prehistoric Pets in Fountain Valley and they are most willing to take the Sulcata off my hands; probably because, fully grown, they can be sold for as much as $10,000.
But, instead I gave it to Tori.
And promised to pick up the cost of the outdoor enclosure.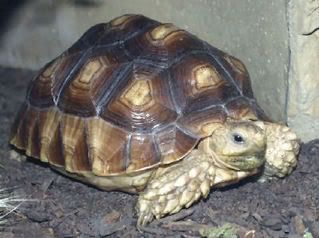 A tortoise which is not a Russian Desert...
And you would think that would be enough weirdness but Hugh and I still had a dinner to go to and it turned out to be a night of worthless drinking and good hamburgers in a dive bar which we decided could pass for a dive bar in Jamaica and therefore many photos were taken of us pretending to be in Jamaica because our friends are going there in August and have told their children that we are going as well... because they are not married and we are and apparently the presence of a married couple means there will be no hanky panky between the singles.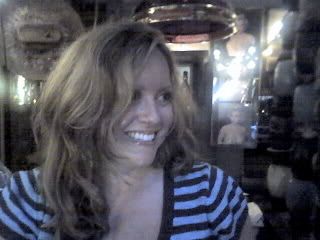 Me, in Jamaica!
or Dana Point, you choose.